[Commune餐桌一覽:如何為家居選擇合適的餐桌?(下)]
[ Commune's Dining Table 101: How to choose the Perfect Dining Table 2 ]
上回提到,除了梳化外,客廳內沒有其他傢俬比餐桌更適合展現品味。要營造一個舒適放鬆的環境,
餐桌風格和外貌亦是重要因素之一。當你選購餐桌時,不但要考慮你的室內設計風格,
還要考慮其實用百搭的程度,即使未來裝修或轉換風格,你選擇的餐桌又是否能與之融入?
From our previous blog, you'll know the trouble of considering your interior design, functionality, and future modifications
when purchasing a dining table. Continue reading to learn more tips from Commune to save yourself from the troubles.
Click here to read the previous blog
4 | 餐椅配搭
4 | Chairs
買餐桌時不得不同時考慮餐椅,你可以先決定好未來的設計風格,然後選擇在同一個系列選購,
或是用不同系列的餐桌及餐椅營造玩味風格和對比,以個人喜好進行搭配。
When you're making a table purchase, you're also considering what type of chairs go best with it. After deciding
what style of design complements your living room, the easiest way is to choose among a collection for matching pieces.
For a more adventurous take, choose a table and chairs from different collections for a personalised mix-and-match.
Commune's Pick: Dualtone Dining Table
要搭配不同系列的餐桌或餐椅確實有難度,但同一系列的也許你又會覺得太乏味。
Dualtone餐桌想必便能滿足到你,採用了簡約雙色設計,既有一定的和諧性,
亮色白橡木和深色黑胡桃木又能營造出適當的深淺對比, 傳遞出一種自然美感。
We know it can be difficult to style furniture from different collections, but having all of them from the same collection
might be a choice too dull. Our recommendation for you is the Dualtone Dining Set with its signature two-toned
solid wood design. The combination of solid American Walnut and Oak creates a subtle contrast of colours,
and yet pairs harmoniously that elevates any room with its natural beauty.
5 | 堅固耐用材質
5 | Material
這張餐桌將會在你家中長留一段時間,所以選擇高品質的耐用材質尤其重要。
實木家具十分結實堅固,不容易變形,又能承托較重的當西,是一個值得考慮的好選擇。
Your dining table will be your companion for years, so it's essential to pick one made with top-notch materials.
Solid wood tables are strong and sturdy, promised to withhold your heavy pieces for many years to come.
They are also less prone to deformation, meaning years later they will look just as new as when you purchased it.
Commune's Pick: Rover Dining Table
這張Rover餐桌採用金合歡木實木製成。金合歡木是一種珍貴木材,
質感結實耐用,穩定性好,而且紋理細密清晰,不會輕易損毀開裂。
Our Rover Dining Table is made from solid rubber wood with an acacia veneer overlay on top.
Acacia wood is sturdy and durable with an even nature of grain that stays good-looking for the years to come.
6 | 可調節式設計
6 | Flexibility
除了考慮家中有多少人同住之外,還要考慮自己的生活模式。若你平常喜歡邀請一群朋友前來作客,
你可能需要一張可調節式的伸縮餐桌。只需拉開就能加大桌面,靈活配合不同生活需求,令居家生活更有彈性。
Apart from the number of people living in your home, your lifestyle and habits mustn't be taken
out of the equation as you make your purchase. If you're a frequent party host, you may need an extendable table
to seat your many friends. Simply pull open to provide more room for whenever company calls.
Commune's Pick: Flint Extendable Dining table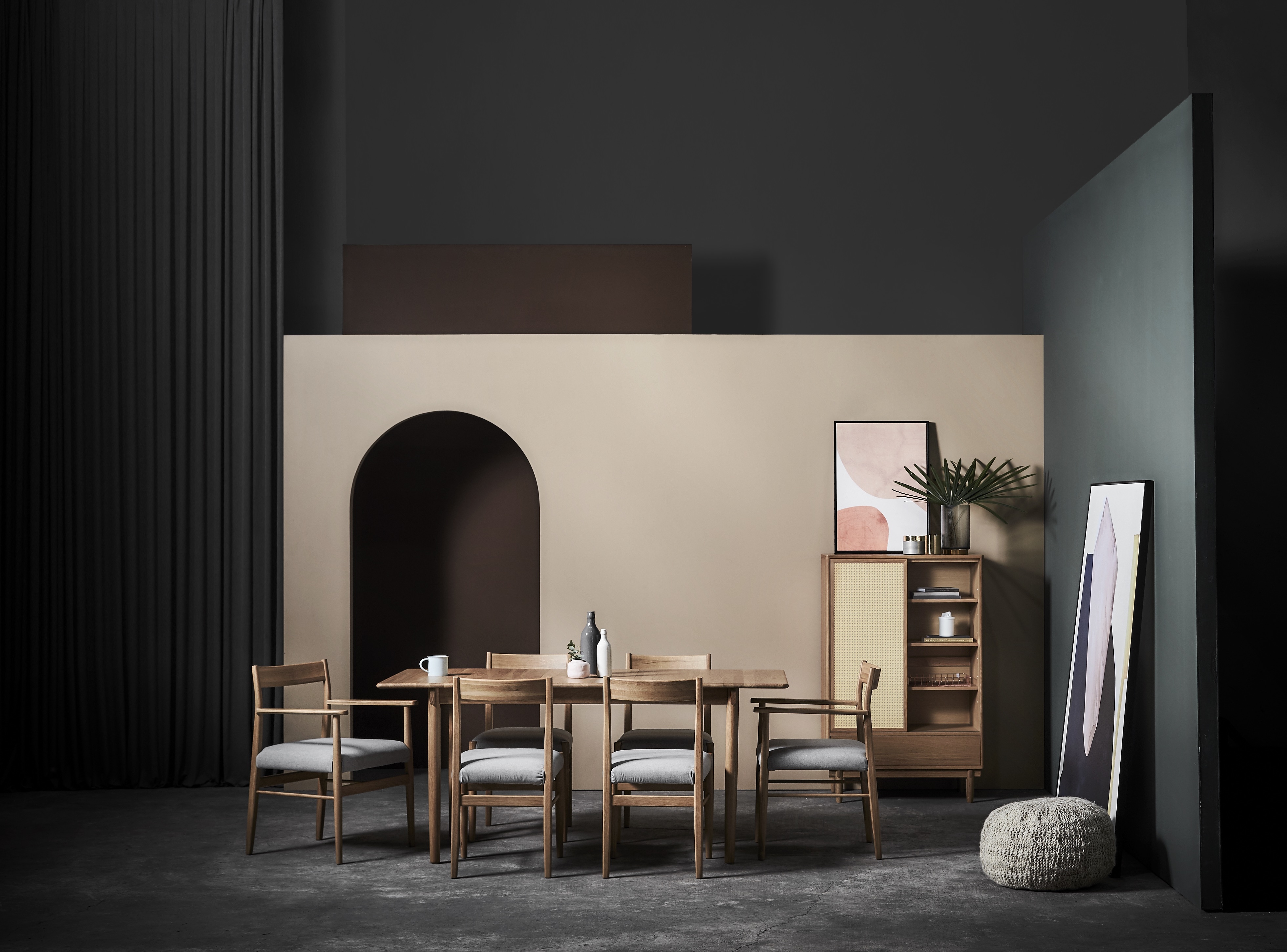 這款Flint餐桌重點在於其可伸縮設計,正常使用1.3米闊的桌面時,適合四人同坐。
當拉出兩邊伸縮板,便可將桌面加大成1.7米闊,能讓六人同坐,方便配合不同人數和空間需求。
Commune's Flint Extendable Dining Table comfortably seats four at its compact 1.3 M size. When extended to
its full length of 1.7 M, the table seats 6, easily fulfilling your different needs and occasions.