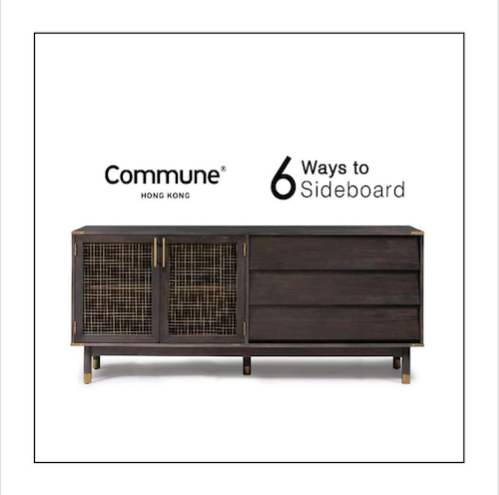 【Commune 教你用餐邊櫃:你不知道的六個用法】
【Interior Design Ideas: 6 Ways To Sideboard】
Sideboard(餐邊櫃)在美國及英國的家居就如梳化一樣普遍,幾乎是每家每戶的完整家居必備!現時餐邊櫃的用途十分廣泛,除了可作更大容量收納,亦能提供額外工作空間 。加上一般餐邊櫃的高度只及腰間,在視覺上亦能營造家居空間感。想將餐邊櫃更好地應用於家居空內設計,不妨看看以下六個用法。
Sideboards are almost as common as sofas in the States and UK. You'll probably find it at every home. This versatile furniture has a wide range of usage that suits everyone's needs. Other than creating more storage space, low-height sideboards can also offer extra surface area, and add visual interest that can take your room décor to the next level. Read on to see how to derive maximum utility out of it.
1 | 代替書櫃作文件圖書收納
1 | Keep your Documents and Books
利用餐邊櫃櫃身及櫃面,就可好好把文件作收納及分類。你可將美觀的書籍放上櫃面,再配上設計 Bookstand,一個實用又優雅的收納空間就完成了!
Tips: 如果收納空間不足,可以在餐邊櫃上設置同色系層架,把儲物空間向上延伸。注意層板與餐邊櫃之間要分隔一定的距離,以作「留白」營造更大空間感。
Instead of a bookshelf, people who have a consistent reading habit can go for a sideboard. It provides a wonderful surface area for you to display, as well as a storage area for you to keep your documents, magazines, notebooks or other reading material in an organized way.
Tips: Add same-hued shelving units above the sideboard if you need additional storage. Remember to leave enough space between the shelving units and the sideboard, so as to add a unique feeling of space into the room.
2 | 陪伴小朋友長大: 湊BB恩物 / 玩具收納
2 | Storage for Kids' Toys and Babycare Essentials
一個餐邊櫃就已足夠解決小朋友十年的儲物問題!若你是準備迎接BB來臨的準媽媽,餐邊櫃亦將會是你的育兒好助手。當BB還在嬰兒時期,餐邊櫃桌面可以放置沖奶機及奶粉等,尿片及日常用品亦可作分類儲存,一站式解決你的育要需要。小朋友長大後,比較矮身的餐邊櫃可方便孩童放玩具,讓他們從小養成收納的好習慣。你亦可加入安全櫃桶,以免發生夾手指等家居意外 。
A Sideboard comes with many drawers, so its ample space is perfect for organizing all the cluttered babycare items systematically. If you are going to have a newborn, you can put the powdered milk, diapers and other daily essentials onto the sideboard or into the drawers for easy accessibility.
When they slowly grow up, the low-height sideboards allow them to form a habit to store their toys properly. You can also add cabinet catch into the drawers, avoiding home accidents like finger slamming.
3 | 玄關收納+鞋櫃
3 | Storage for Shoes and Daily Essentials
餐邊櫃容量大、分隔好,因此可在玄關作開門式鞋櫃。除了放鞋,你亦可於桌面位置放置家居雜物、藥物,甚至鏡子、小飾物櫃、放置鎖匙、手袋等,方便日常出門。
The sideboard can also serve as a shoe rack at the entrance. Other than keeping your shoes, you can also put your daily essentials on top of the sideboard, like mirrors, accessories box, keys, handbags, so that you remember to take everything necessary before going out.
4 | 放置收藏品或喜愛植物
4 | Display Your Collection and Favourite Plants
不妨善用餐邊櫃桌上空間放置你喜愛的藝術品、結婚照或者模型Figure !此外,近年亦十分流行在櫃頂種植小植物 ( 例如較容易打理的多肉植物) ,可為大廳增添生氣。
The sideboard can offer you a beautiful display area for your favourite artwork, photo frame or figures. You may also want to exhibit your plants there, adding a sense of vitality to your living room.
5 | 放置裝飾燈/咖啡機
5 | Place Your lights or coffee machine
你可在客廳的餐邊櫃多放一盞裝飾燈,營造晚間客廳氣氛,亦可在另一端放置早午用咖啡機及多士爐等,配合你全日的生活需要。
Feel free to keep your lamps on the sideboards. Not only illuminating the living room at night, it can also create an incredible lighting effect. Putting a coffee machine and toaster on the other end is also a good idea.
6 | 廚房儲物及工作空間
6 | Extra Storage and working surface for Kitchen
於開放式廚房及大廳中間加設一個餐邊櫃在外國十分常見,除了可作間隔分隔空間,櫃面更可以增加工作空間,方便使用者煮食、放置生果及食水等。櫃內抽屜亦適合放置乾糧、零食、罐頭等,令廚房空間實用又美觀。
It's common to set up a sideboard between the open kitchen and the living room in foreign countries. Other than serving as separation, it can offer you a larger working surface for cooking. The drawers can also store all your kitchen essentials like table linens, cookware, or even snacks and canned food.