[ 蝸居佈置實用小貼士 ]
[ A Guide To Make Your Small Spaces Look Bigger ]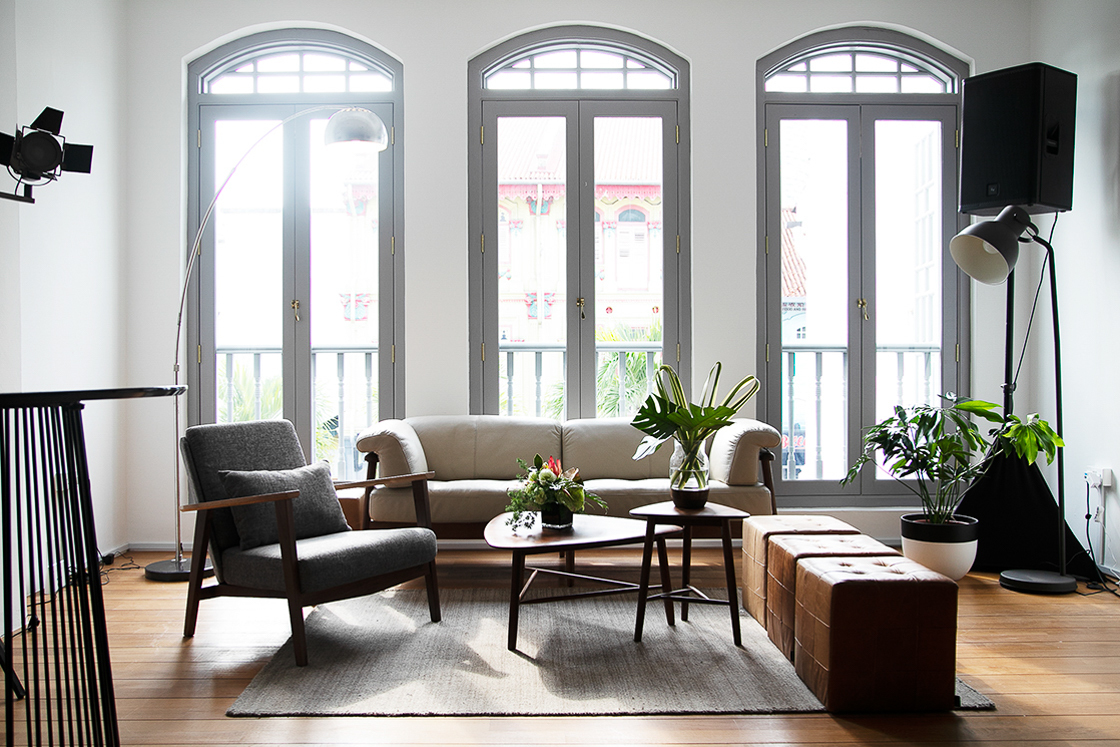 香港地寸金尺土,在這個「石屎森林」之內,不少人只能容身於蝸居之中。想利用有限空間打造愜意生活環境?其實也不是不可能。
不論你是住在Studio Apartment,還是想用盡細單位的空間,只要運用以下小貼士,從家具體積及空間感入手佈置,
相信大家都能擁有一個實用又美觀的安樂窩,並從中找到佈置蝸居小天地的樂趣及滿足感。
Living in this concrete jungle named 'Hong Kong' where bricks are more expensive than diamonds,
the majority are living in minuscule apartments. Does that mean comfort and decency has to be compromised in such a limited space?
Not necessarily. No matter where you're living, a studio apartment or a flat with limited space, here are some tips
to create your very own practical yet dazzling home by making use of different furniture and accessories to create a more 'spacious' feeling.
1 | 使用圓形餐桌
1 | Use Round Dining Tables
圓形餐桌比起傳統餐桌更為節省空間,配上兩張椅子便能享用早餐、下午茶甚至蠋光晚餐,實用之餘亦能營造出溫馨氛圍。
Round Dining tables are more space-saving than traditional long dining tables. Two chairs for dinner, afternoon tea,
or even candlelight dinner. It can also easily create a harmonious atmosphere for different spaces.
Commune's Pick: Scotch Round Table Combo Set – 1 Table + 2 Chairs
2 | 選購多重用途傢俬
2 | Pick Multi-purpose furniture
選購傢俬時可考慮產品是否可作多重用途,例如一張有品味又實用的餐桌便可同時作為用餐及工作空間,
一張舒適的梳化床則可作為朋友作客時休息的地方,一張小凳子又可同作茶几及床邊几使用,
輕鬆騰出更多空間以作活動,同時減少家中可見雜物。
Consider if the product is multi-functional when purchasing furniture. For example, a tasteful and
practical dining table could be used in the dining area as well as the workplace. A comfortable sofa bed could be used
when you have a guest to host. A little chair could also be used as an end table or bedside table.
Flexible use of furniture can save up space for activities and reduce visible clutters.
Commune's Pick: Weiland 1.1m Round Table Combo Set – 1 Table + 4 Stools
3 | 添置鏡子
3 | Use Mirrors to create visible spaciousness
鏡子具有神奇魔力 —— 利用光線折射在視覺上增加家居空間感,亦可以加強室內燈光亮度,
令整個環境看上去沒那麼擠擁狹窄。只要選擇得宜,鏡子還能為家居帶來品味與個性。
Mirror has its magic of using its reflectiveness of lights to create an optical illusion of spaciousness.
It could also enhance the overall brightness indoor to levitate the feeling of a packed space.
Pick the right mirror to showcase your personality and taste!
Commune's Pick: Dualtone Standing Mirror
4 | 購入可收納式家具
4 | Buy furniture with storable design
現時市場上有不少家具採用了可收納式設計,可照顧一眾蝸居用戶的需要。
例如長凳於不使用時便可收放在餐枱底下,令空間看上去更加整潔有序。
There is a lot of furniture with retractable design in the market that fulfill the needs of the micro-apartment users.
For example, a dining bench that could be stored under the table when idle to make the dining room visually more neat and organised.
Photo and Styled by Bob Mubarak
Commune's Pick: Rover Bench
5 | 採用自然色調
5 | Adopt natural colour tones
自然和諧的淡色調能令空間在視覺上有延伸效果,令家居看上去比實際面積大。
若覺得自然色調過於單調或平平無奇,可以考慮選購不同材質的家具,
或以實木家具作為亮點,為整體室內設計增添層次感。
Natural and harmonic light tones can create an extend of space visually, create an optical illusion
of a larger space. If you find light tones too subtle or dull, try furniture with a different texture.
Consider using solid wood furniture as an indoor highlight to add a tasteful layer to the interior.
Commune's Pick: Crimson Coffee Table
6 | 巧妙分隔空間
6 | Division of space
以家具或裝飾品分割家中區域是必學的室內設計技巧,讓狹小空間看上去更整齊有規劃,輕鬆將睡眠區域和日常生活區域分隔開來,
營造出有數個空間的效果。你可考慮用書架或餐邊櫃進行劃分,同時增加收納儲物空間。
Using furniture or accessories to divide space is a must-have skill for interior design.
It makes limited space visually more organised and well-thought-out, and divide the areas according to their functions.
You may consider using bookshelves or sideboards to divide space and increase storage capacity.
Commune's Pick: Rover Sideboard
7 | 善用表面空間
7 | Make use of surface areas
所有表面空間也有利用價值,例如櫃面、窗台之上,除了可放置家居雜物方便使用,還可擺放收藏品或喜愛植物點亮家居,
而無須再另行添置傢俬製造收納位置。想進一步增加儲物空間的話,不妨設置層架繼續向上延伸。
All surface areas have their value. For example like cabinet top, windowsills, etc. Other than keeping
the household miscellaneous, they're good spots for collection display or green decorations.
That would save the necessity of storage furniture taking up space.
If you'd like to further increase the storage capacity, consider shelves extending upward.
Commune's Pick: Dualtone 6 Drawer Dresser