【 Work From Home 家居佈置技巧大公開 】
【 5 Home Decor Skills to Work From Home 】
近期在家工作的人數不斷攀升, Work from Home這種工作模式已成為一種趨勢。想好好打造屬於自己的居家
工作空間,提升工作效率同時達至work-life balance?以下提供幾個室內設計及選購家具的小技巧,
讓大家即使在家都能好好回覆電郵及完成工作。
As more people joined the "work from home" army, this seems to have become a trend around the world.
Here are a couple of interior design and furniture-picking tips that perfect your workplace
to enhance your working efficiency as well as work-life balance.
1 | 選擇適當座椅 Pick the appropriate seating
工作效率跟坐姿其實有莫大關連,躺在梳化或床上工作並不是好選擇。
你需要選購一張有足夠支撐、坐感舒適的椅子,這樣才能避免腰酸背痛,讓你更專心集中於工作之上。
Work efficiency is highly related to your sitting posture. Neither leaning on a sofa nor working in bed is a good choice. All you need
is a chair that provides you with sufficient support and comfort so that you can say goodbye to back pain and focus more on your work.
2 | 因應空間大小選擇書桌 Pick the right size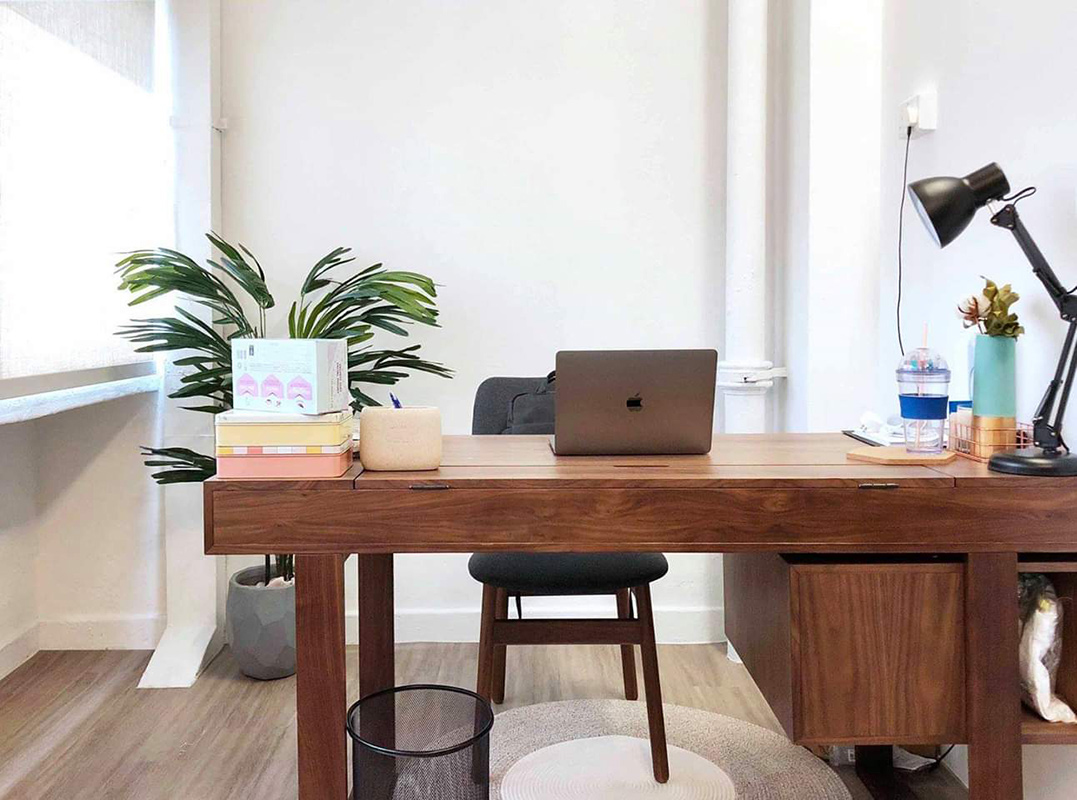 EXCELSIOR WRITING DESK
書桌是Home Office的靈魂,揀選時應留意室內空間大小。若你居家工作的空間較大,你可以選購較為簡約的書桌,
工作時只放上你的電腦和文件,令工作進度和所需物件一目了然。若你的空間有限,
不妨選擇有較多儲物空間的書桌,讓你可輕鬆整理文件、文具,Crimson Writing Desk等實用書桌便是你在家工作的良伴。
A writing desk is the soul of home officing and its size should highly depend on the size of the interior. If you have a larger home space,
you may pick a minimalist kind of writing desk and only put your computer and relevant documents on the table
while you work in order to keep everything in sight and on track. However, with limited space, you might want to consider
a writing desk with more storage compartments to help organize documents, stationery, and other miscellaneous items.
Writing desks like Excelsior Writing Desk would be your best companion.
3 | 運用書架、陳列架營造氣氛 Make use of shelves

ASOLO BOOKCASE,WEILAND ARMCHAIR, ESTELLE COFFEE TABLE
家居氣氛亦是重要因素之一,居家工作不應只注重實用傢俬及辦公用具,畢竟我們留在家的時間越來越多,
將空間變得美觀亦能改善我們的心情及工作效率,長遠來說可以保持正面思維和心理健康。
你可以在書架、陳列架、餐邊櫃上放置喜愛的物件,例如畫作、花藝、相片等,當你工作得累時,視線可以從電腦上移開,
看着喜愛的東西放鬆心情休息一下。此外,落地書架或裝飾櫃也能劃分清楚特定工作與生活空間,令家居格局更加清晰。
你亦可選擇於家中放置綠色或人造植物,為家中增添更多自然生氣,舒緩從工作帶來的壓力和負面情緒。
The atmosphere and the vibe are also critical elements to create the perfect workplace. Other than practical furniture and office tools,
improving the look of the space would lift our mood and raise efficiency, in the long-term help maintain a positive
mindset and psychological health.You may place your drawings, flower art, pictures, etc. on your shelves or sideboards that
you may feel happy looking at when you're too tired of looking at the computer. Besides, a shelf would also work as a space divider
that creates a clearer boundary between the workplace and living space. You may also plant some green or artificial plants for refreshing purposes.
It helps relieve the stress and negativity from work.
4 | 確保光線充足 Ensure light sufficiency
燈光對工作來說十分重要,你可以將書桌設置於窗旁,讓自然陽光從窗外透入,亦可在書桌上面或旁邊放置枱燈或地燈,
確保有充足光線,即使在家工作亦能達至理想表現。
Lightings are essential for efficient work. It is recommended to place your working desk next to a natural light source such as a window.
You should also use a table lamp or a floor lamp to ensure there is sufficient lighting for the ideal work performance.
5 | 注意其他環境因素 Keep an eye on other environmental elements
除了選購傢俬之外,大家亦能從其他環境因素入手。研究證實在家中播放適當音樂能夠增加工作效率,讓你能更集中於工作。
此外,溫度亦可能會影響工作進度,所以緊記要調較好適當氣溫才開始工作。你亦可從氣味入手,利用擴香器,蠟蠋等打造出
一個使人放鬆的工作環境。只要好好運用這些基本小技巧,相信大家都能利用家居佈置為自己找到最理想的Work From Home模式。
Other than picking furniture, you may also work on improving the environment like playing music. It is scientifically proven that
appropriate music can enhance working efficiency and improve your focus. Besides, the indoor temperature also affects working progress.
Therefore, remember to adjust to the right temperature before you start. Consider using a reed diffuser or candles to change
the scent of the space to create a more relaxing working area.As long as you master these skills,
everyone can make good use of home settings to find your idealistic way of working from home.